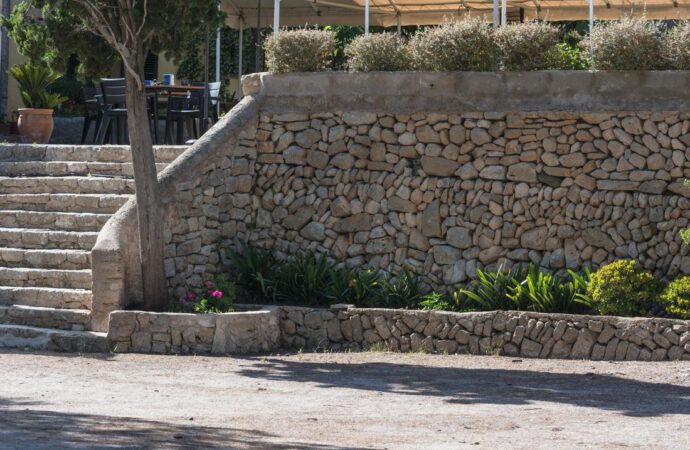 Garland is a town in Texas's U.S. state. It is northeast of Dallas and is part of the metroplex of Dallas–Fort Worth. It is almost entirely within Dallas County, except for a small portion in the counties of Collin and Rockwall. The city had 226,876 inhabitants at the 2010 census. The population rose to 242,507 in 2018, making it the 93rd most populous city in the U.S.A. and the 12th most populous city in Texas.
If you landed on this site, you're likely to be looking for landscape services in the region. If so, you should stop worrying because you have on your hand the best landscapers. We are one of the most skilled and accomplished landscapers, the Mesquite Landscape Designs & Outdoor Living Areas. For the last two decades, we have been in this area and have flourished ever since. We provide various services for better soil conservation such as lawn maintenance, pruning, fertilizer disposal, installation and repair of drainage systems, and much more.
We ensure to deliver the best results so that you remember the thing for the remainder of your life. Our motive is not only to earn money but to provide something fruitful. Over these years, we have never failed any of our customers and strive to do the same. We have kept a very accurate price for every service that we offer. Landscaping is not everyone's cup of the team; you need experts, and we, as a company, hold expertise in the lawn so you can have faith as you will be in safe hands.
Not only landscaping, but we also provide services such as outdoor patios, pergolas, swimming pools made of fiberglass, paved and non-paved pathways and walkways, and many more functions. These structures present a perfect mixture of nature and architecture, and we will make sure to amaze you with this combination. Do you like sitting outside and chill but lack a proper sitting area, don't worry as we can arrange that for you our company has enough experience to deal with every situation. We provide high-quality overhead structures that will save you from the sun and partially let sunlight pass, which feels fantastic.
If you have any custom design in your mind, which you would like to turn into reality, do not hesitate and let us know, we might help you turn it into reality. We have a very professional and mature team that takes every project seriously and never tend to negotiate with the quality they have to offer. It could be your best decision to choose us as your landscapers. 
If you are still thinking, think fast as the limited period offer is about to expire, call us immediately. Our company Mesquite Landscape Designs & Outdoor Living Areas, offers various services, and some of them have been enlisted below: –
Our Feature Highlights: –
Trained and Professional Crew

Insured, Bonded, and Licensed

Flexible Scheduling

24/7 Emergency Services.
There are so many areas or regions where we offer these services with most of them being cities. However, if you need any of these services, you need to contact us. The list below comprises the areas where we offer these services.
Feel free to place your order and receive your free quotation now!