Outdoor Kitchen & Outdoor Living Areas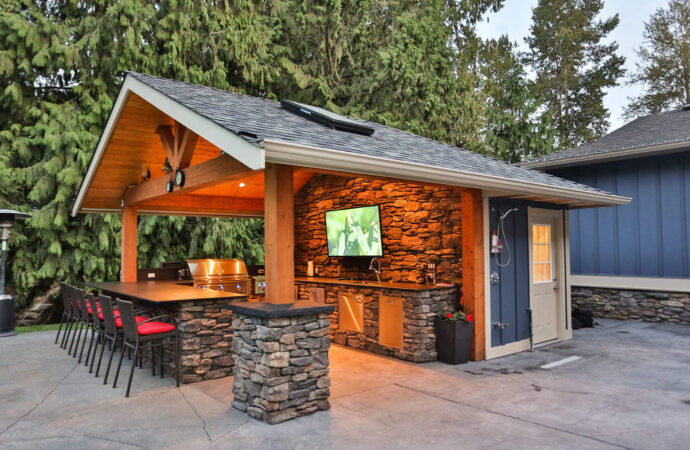 Most people underestimate many things about the outdoors, starting with the fact that they can bring you many benefits. For example, you will attract more people and bring attention to your property in general.
Many people decide to pay more attention to their indoors instead because they think, "well, this is the area where I will spend more time" and even when that's true, it can change. You can spend more time outdoors if you have a living space that allows you to be there for hours without problems.
Now, I understand if you aren't in love with the idea, but I still invite you to give it a try and make sure that you have an outdoor space that helps you to at least have some meetings with your clients, if we are talking about a commercial property, or invite your loved ones to spend some time with you. It's boring to stay inside, let's face it.
If we talk about the features or things people pay more attention to, one of them is definitely the kitchen.
Well, people say that the kitchen is the heart of the home or property, so you can expect it to be very important. However, it's true that most people don't like cooking or feel enclosed when they are in an indoor kitchen. If you're thinking, "there's not too much to do about that", you're wrong, you can do a lot about it.
To begin with, you should try to install an outdoor kitchen if you're someone who loves being outside. You will be able to do so many things while cooking or at least, be with your family and friends while you prepare everything. In a few words, you won't feel lonely and that's a huge plus.
Now, installing or designing an outdoor kitchen won't be easy. You will need people who know about this and can take care of the entire process for you.
Many companies in Mesquite, Texas, can give you a hand or two with this. However, make sure to employ the best one with the best professionals.
Mesquite Landscape Designs & Outdoor Living Areas is a top company in the city that can help you with the entire process. We have the best professionals who are well trained, equipped, and experienced to design and install your outdoor kitchen for you. Just make sure to call us, email us, and even visit our offices anytime.
We are always of the opinion that outdoor living spaces should enhance the appearance of your compound. At Mesquite Landscape Designs & Outdoor living spaces, we are always committed to making sure that we deliver to you the best outdoor living spaces.
Below is a list of the services that we provide to the residents of Mesquite;
There are so many areas or regions where we offer these services with most of them being cities. However, if you need any of these services, you need to contact us. The list below comprises the areas where we offer these services.
Feel free to place your order and receive your free quotation now!