Pergolas Design & Installation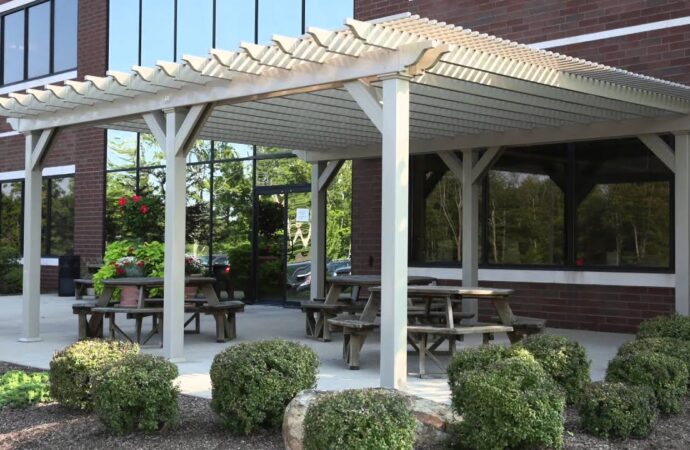 There's always a way to spend your time outdoors even when the sun or maybe the rain wants to stop you from doing it.
Let's start from the beginning so you can understand what I'm trying to say.
Most people think they have to spend their time indoors because the climate or weather isn't the best one to be outdoors. Well, that may be true if you live in Mesquite, Texas. The climate isn't always the best to spend time outdoors since the sun will be like your enemy, but it is possible if you do something about it.
Of course, you won't be able to spend minutes and hours outdoors if you don't have space or a section where you can stand or sit without having to worry about the sun or rain.
Everything is about the space you have designed and the features you installed in your outdoor living space. If you haven't done such a thing, then you need to start working on it.
Paying more attention to your outdoors is very important since keeping them in good shape is also amazing to attract more people and bring attention to your property, so it isn't only about spending time outdoors or something like that. Your outdoors is usually your cover letter.
Now, if you're seriously going to invest time, money, and effort on this, make sure to install a pergola if you're trying to have space where you can be for hours.
A pergola is an amazing feature that I personally didn't install at the beginning, but as soon as a close friend recommended it, I decided to give it a try and since then, I love it.
There are many options when it comes to the features you can install, but you can't go wrong with this one and I encourage you to install it.
Make sure to contact a professional if you decide to have one in your outdoors. Designing and installing a pergola isn't as simple as it may seem for many people, so don't underestimate all the work it takes.
Mesquite Landscape Designs & Outdoor Living Areas is an amazing company you should consider if you're looking for the best professionals who can install this feature for you. Our experts are well trained, equipped, and experienced, so expect only the best from them.
Contact us now and we will ensure you the best pergola you will ever have.
We are always of the opinion that outdoor living spaces should enhance the appearance of your compound. At Mesquite Landscape Designs & Outdoor living spaces, we are always committed to making sure that we deliver to you the best outdoor living spaces.
Below is a list of the services that we provide to the residents of Mesquite;
There are so many areas or regions where we offer these services with most of them being cities. However, if you need any of these services, you need to contact us. The list below comprises the areas where we offer these services.
Feel free to place your order and receive your free quotation now!