Outdoor Fireplaces & Fire Pits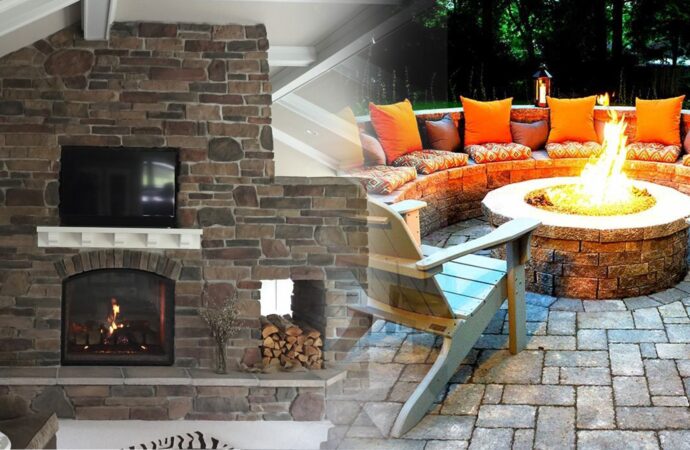 Well, although I'm a fan of cold days and winter, sometimes is hard to spend time outdoors with that kind of weather. Therefore, I usually discard the idea, well, that's what I used to do.
I'm someone who always tries his best to be able to spend time outdoors since I love spending time in a place that doesn't involve my living room or bedroom. Therefore, when I decided to renovate my outdoor space, I thought about features that could help me to spend time outdoors despite the weather.
Because of this, I ended up installing a pergola and lighting that could allow me to spend hours or even an entire day without having to worry about anything. A pergola is enough for the summer or hot days, but I still had to deal with the cold ones.
One of the professionals who helped me to design my outdoor area and install every single feature suggested me to install a fire pit that would allow me to be outdoors during the cold days and to my surprise, it was true.
If you're just like me, someone who wants to spend time outdoors regardless of the weather, make sure to install features that can help you with that. A fire pit or fireplace is perfect to sit around it and roast some food or marshmallows. Just make sure to employ someone who actually knows how to install any of them. Otherwise, you will end up with a feature that doesn't work properly.
Mesquite Landscape Designs & Outdoor Living Areas is a top company in your city that has the best professionals ready for you. You can contact us and we guarantee you that our experts will deliver the best results. You only have to entrust us with this task and wait for the best fire pit or fireplace of all.
Our services aren't expensive and we can help you with any other feature you want or need to install. You can also entrust us your entire landscape and the design of it. Don't hesitate to call us, email us or send us a message via our website.
Feel free to also visit our offices or request a free quotation whenever you want. We are here waiting for you.
We are always of the opinion that outdoor living spaces should enhance the appearance of your compound. At Mesquite Landscape Designs & Outdoor living spaces, we are always committed to making sure that we deliver to you the best outdoor living spaces.
Below is a list of the services that we provide to the residents of Mesquite;
There are so many areas or regions where we offer these services with most of them being cities. However, if you need any of these services, you need to contact us. The list below comprises the areas where we offer these services.
Feel free to place your order and receive your free quotation now!